Dog Day Care
When your pet spends the day — or longer — here with us at Snug, you can rest assured that your buddy is being supervised by trained professionals at all times. We welcome dogs of all personalities and ages, and we group them accordingly to make sure they have the best company during their stay.
We provide a fun, exciting, educational and safe place for your dog to be while you are at work or away for the day.
Always a Good Time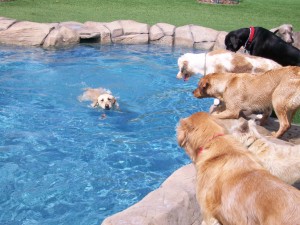 Here's some of what you and your pet will find when you choose Snug as your day care provider:
A climate-controlled, ventilated complex
Indoor and outdoor play areas
Safe, clean and separated EZ Turf yards
Live web cams so you can check in on your pet from anywhere
A midday snack and nap time to make sure your pet stays happy and relaxed
You might want to consider Seasonal Buddy Boarding, a stay for friendly dogs who prefer the company of canine friends. Somewhere between boarding services and day care, you can think of it as a slumber party — for dogs.
Day Care That Keeps Your Dog Happy
We stress the concept of one-on-one attention for the dogs that stay at Snug. Our trained animal technicians and dog trainers will make sure that your dog stays relaxed, comfortable and happy here. Day care dogs are monitored at all times, and our veterinary staff is available should they be needed.
While your pet is with us, feel free to take advantage of the other services we offer. We aim to be a one-stop facility when it comes to the care of your animal.
Pick-up and delivery service is available!
Note: All dogs must be spayed or neutered after 6 months of age
 RATES                                  +BUDDY 
Single Day: $30.00                     $25.00
Half Day: $22.00                         $15.00
5 Day Pass: $125.00                    $112.50
10 Day Pass: $240.00                 $216.00
1 Month Unlimited: $485.00      $436.00
90 Day Package: $1800.00        $1620.00
GET THE VERY BEST PRICING ONLY WHEN YOU BOOK ONLINE!
Need More Information?
If you're looking for the best in dog day care, contact Snug Pet Resort today at at (858)643-0010 to discuss your needs and get your questions answered. We Look forward to helping you.