Specialized Comfort For Senior Dogs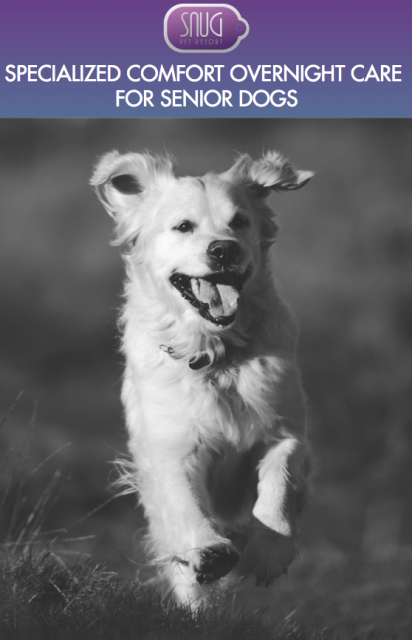 Boarding a pet can sometimes be difficult. It can get more complicated if you have an senior, geriatric or even just sensitive pet. SNUG has come up with a solution to keep your mind at easy and your special pet comfortable and stress free.
Welcome to Specialized Comfort Boarding. We here at SNUG have designated a quieter more calming area to board special needs and elderly pets. The accommodations are separate from other boarding animals in a quiet smaller area. These pets get more one on one time in a climate controlled environment with extra bedding, softer music, and even specially designed meals. A full time attendant is assigned to the SCB pets to ensure they are comfortable, less stressed and all their needs are being met.
Due to this area being designed as stress free as possible, pets will only be allowed with proper reservations which include making sure they are a good fit to be around our other SCB occupants. This environment is met for older, calmer more easily stressed pets.
Price Includes:
One on One attention from a team member
Routine check with our medical director each day
Climate Controlled Area
Round the clock care
Extra time outside to relieve possible stress or anxiety
Extra bedding designed for older pets
Quiet, relaxing music throughout the day designed for dogs
Special Diet preparation if needed
Smaller area with fewer pets
All pets staying in this area are pre-screened as a good fit
Book your special ones stay now to ensure we can accommodate your needs.
We here are SNUG understand that not all dogs are the same and so not all boarding should be the same.
Save time and get the best deal when you book online!
Please note: all dogs over the age of 10 need to have a free pre boarding exam with our Doctor to make sure they are healthy for boarding.